The alluring Andaman and Nicobar Islands are an ideal getaway destination where the holiday seasons never end. These Union Territories of India, with their enchanting charm, have easily captivated the travelers and have gained prominence over the course of time as the perfect place for customary retreats. The aesthetic communion of the azure waves with the dazzling white sands backed up by the flourishing greenery has made Andaman and Nicobar Islands the most coveted destination in the entire world.
A tour to the Andamans will never leave you disappointed once you step into its domain. Counted as one of the most incredible beach destinations in India, these cluster of islands floating by the vastness of Indian Ocean are a delight for the explorers who are on a quest for natural allure and exotic beaches. Discover a newfound solace & tranquil in the undefiled realm of these untouched archipelagos. Discover the breathtaking views of nature, and walk on the pristine white shoreline admiring the resplendence of the radiant turquoise waters. While you're here, indulge in water sports & discover the fascinating marine life as you attain a life enhancing experience of blissful exploration.
How to reach Andaman & Nicobar Islands
By Air: Port Blair, the capital city of Andaman and Nicobar Islands is connected to Kolkata and Chennai by air. Indian Airlines, Kingfisher Red, and Jet Life connect with Andaman Daily via two flights. It is a two-hour flight from Kolkata on a normal day. Other flights take off from Chennai taking encompassing the same duration.
By Sea: Located in the Bay of Bengal, Andaman and Nicobar Islands bestow an amazing voyaging experience. The regular passenger ship services are rendered for Port Blair from three major ports of the country, i.e., Chennai, Kolkata, and Vizag. It is a three-day journey by sea. There is the availability of three to four ships every month from Kolkata and Chennai to Port Blair and vice-versa. While there is only one sailing for Vizag in a month.
So, if you plan for a voyage to those beautiful archipelagos, then peek a glance at the list of Andamans Ships with travel time schedule from the Indian mainland.
The Islands are not self-sustained. Thus the ships voyaging between Indian mainland to the archipelagos are rightly specified as the 'life-line of the Andaman and Nicobar Islands'. Any intrusion in the voyage influences the life of the local population, because a major portion of needful merchandise is ferried by the voyaging ships.
List of Andaman Ships voyaging to Andaman and Nicobar and vice-versa
1. MV. Nicobar (IMO 8606161):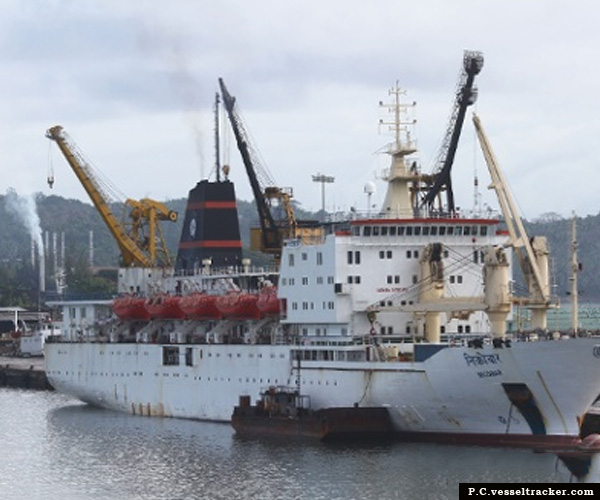 M.V. Nicobar comprises of 300 cabins, 900 bunks and decks. MV. Nicobar ship is built with a capacity to carry 1200 passengers along with 1500 cargos. Maintaining deluxe class accommodation, the fares for non-islanders is INR. 9750 and for islanders, it is 5040 INR.
2. MV. Harshavardhana (IMO 7219026):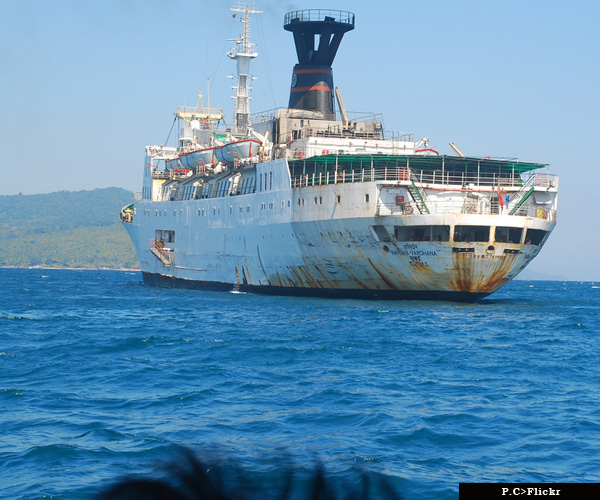 It maintains a wide range of accommodations like a deluxe cabin, costing 9750 INR for non-islanders and 5040 INR for islanders. The cost of the first class cabin is 8080 INR for non-islanders, and 4550 INR for islanders. Second class 'A' cabin costs 6420 INR for non-islanders and 3420 INR for islanders. Second class 'B' cabin is 4960 INR for non-islanders and 3010 INR for islanders. The cost of the dorms is roughly around 2500 INR for non-islanders and 920 INR for islanders. MV. Harshavardhana ship houses 153 cabins and 595 decks, with a capacity to carry 748 passengers with 1500 cargos.
3. MV. Swarajdweep (IMO 9101168):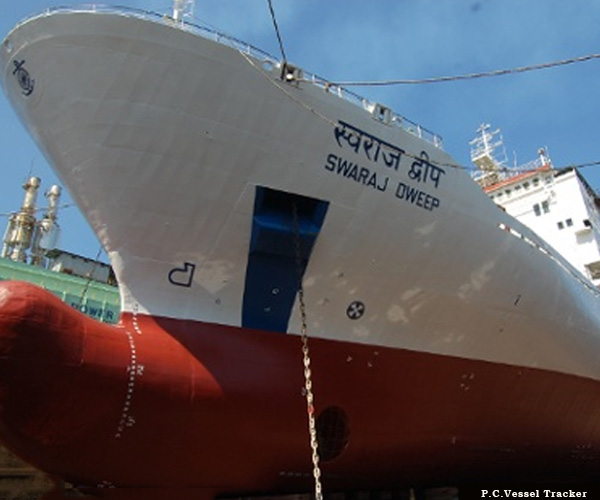 It accommodates 300 cabins and 900 decks. It carries a total of 1200 passengers along with 1500 cargos. It maintains second class cabins as well. The cost of the voyage for non-islanders in MV Swarajdweep ship is 6420 INR and for islanders, it is 3420 INR.
4. MV. Nancowry (IMO 8606434):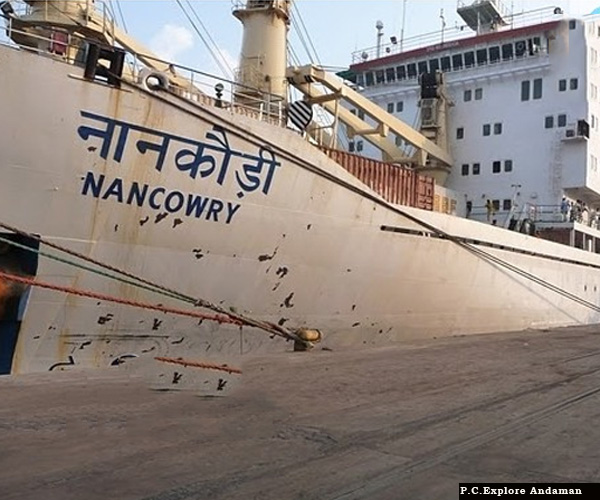 It provides first class accommodation cabins. The charges are 8080 INR for non -Islanders and 4550 INR for islanders. Nancowry accommodates 300 cabins, 900 bunks, with the capacity of carrying 1200 passengers along with 1500 cargos.
5. MV. Akbar (IMO 7116975):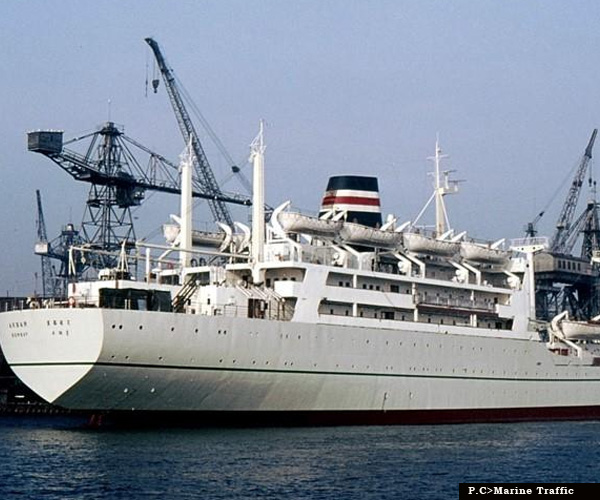 Akbar is the oldest ship commissioned in 1971. It comprises of 121 cabins and 1414 decks. It is built with a capacity to carry 1535 passengers along with 1500 cargos. MV Akbar ship provides deluxe cabin at a cost of 9750 for non-islanders and 5040 for islanders. The cost for the 1st class cabin is 6890 INR for non-islanders and 4380 INR for islanders. AC dormitory costs 4190 INR for the non-islanders and 2280 for islanders. The ordinary bunk costs 2180 INR for non-islanders and 830 INR for islanders.
Ship Schedule: Usually, voyaging Schedules are notified one month in advance for the Mainland to Island journeys. 5 day in advance for the inter-island that cover the southern group of Islands, i.e. from Port Blair to Katchal, Nancowry, Campbell Bay, and Nicobar. A schedule is issued 3 days in advance for the foreshore sector that is from Port Blair to Neil, Rangat, Havelock, Mayabunder, Diglipur and Hut Bay. The departure of the ship from the port varies according to the weather. For instance, Chennai to Andaman ship travel time or voyaging cannot be specified during the unpleasant weather conditions.
Point to be noted for "DOs"
#1.The ships mentioned above are passenger ships. Hence, they lack certain entertainment options on the voyage that are featured in cruises. But, you will be enchanted with the breathtakingly beautiful vastness of the blue sea.
#2. Due to limited choices on board, we recommend you to carry fruits, biscuits, and other eatable items. If you love reading, grab your favorite author from the list of best sellers. Load your mobile or laptop with movies.
#3. Do carry medicines to avoid any chances of sea sickness.
"DON'Ts"
#1. Avoid traveling in the months of June to September, and December. You are highly likely to be prone to sea sickness during these months.
#2. Don't leave the house without required items like sunscreen, insect repellant, hats, an extra pair of shoes, sunglasses, light clothes, food, etc. Food is not included in the fare. It will cost around 900 INR. The choice is limited.
Finally, before embarking on your voyage, consult a doctor. Learn about Andamans, the safety precautions, and prevention of sicknesses. Without a healthy mind and body, you cannot take pleasure in the trip you take.
So go ahead, have a life enhancing experience!
---